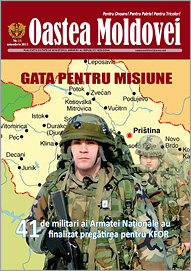 "Oastea Moldovei" anticipates the departure of the Moldovan servicemembers in the international peacekeeping mission from Kosovo, as part of the Multinational Peacekeeping Force (KFOR), through a detailed article on the professional training of the contingent.
In the 11th number of the magazine published by the Ministry of Defense, you can read stories about the servicemembers' contribution to the removal of risks caused by pesticides and their evacuation from Taraclia and Basarabeasca, Major Popa's mission in South Sudan. In this edition, you will also find out why the army's position does not go down according to the desire of some "friends" and what the Defense Minister discussed about with the parents of soldiers dead in military units.
Beginning with December 3, 2013, "Oastea Moldovei" magazine will be available for purchase in all the newsstands of the country.