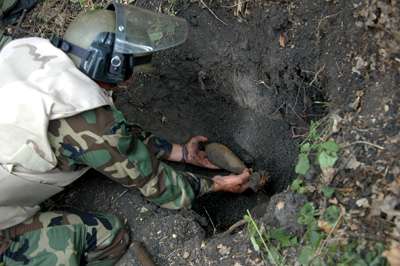 Chisinau, December 2, 2013 — National Army EOD engineers disposed, in November, 14 explosive devices in Ialoveni, Dubasari, Ungheni, Stefan Voda, Cahul and Falesti districts.
According to Col. Mihail Semionov, Commander of Engineers Section of the National Army, during this period of time, the engineers were called in ​​15 times. They located, identified, neutralized, recovered and destroyed artillery projectiles, F-1 hand grenades, .62 mm and 82 mm bomb-launcher bombs.
The above mentioned source stated that explosive devices were discovered on November 30, in Purcari and Rascaietii Noi villages, Stefan Voda, during agricultural works. The ammunition — a 82 mm hand grenade and a 76 mm artillery projectiles — were neutralized by the EOD team of Engineer Battalion "Codru".
This year, the National Army EOD engineers were called in 168 times and destroyed 1791 explosive devices throughout the country.